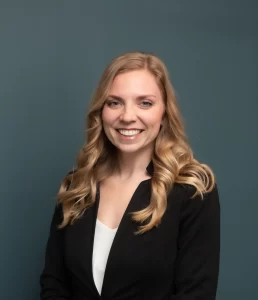 Madison Duff joined BraumRudd in 2021. Though new to the firm, Madison has jumped right into the firearms industry legal field and has been involved high-profile litigation defending the firearms industry, she has conducted audits for firearms industry members to assist with regulatory compliance, and has drafted legal documents and agreements for firearms industry client's needs. In addition, Madison has been involved in representing various local businesses in all matters including mergers and acquisitions, real estate transactions and management, and employee issues.
Prior to joining BraumRudd, Madison was a civilian attorney for the Air Force Materiel Command where she specialized in procurement fraud on multi-million and multi-billion dollar government contracts.
Madison is an eager, young attorney who provides a fresh perspective to the firm. Her drive, diligence, and ability to get things done are the direct result of her personal experiences. She finished law school at the top of her class after being in law review, moot court, and managing an internship. Then, she studied for the bar exam, bought a house, moved, and passed the bar exam with flying colors, all while pregnant with her son and her husband deployed overseas.
Outside of work, Madison is a very involved member of the Journey Community Church. She also is a member of the Ohio State Bar Association.
Madison and her husband love raising their son and are excited to welcome their second son in a few short months. Madison loves to cook and try new recipes, typically with her son right next to her as her sous chef. She also enjoys nature hikes, reading, and weight training.